Waffen SS NCO/EM Overseas Cap
Waffen SS NCO/EM Overseas Cap
Trade & Cash considered on other German items.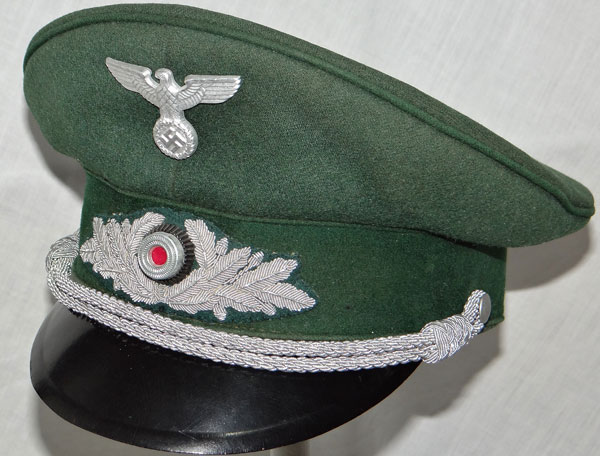 Price:
$1000.00
Item #GHG-010
Waffen SS NCO/EM Overseas Cap
Cap is made of issue quality grey green wool, both eagle & skull have been removed, still has some of the black stitching from where the eagle was and a lot of lose stitching from where the skull was, also the material were the skull was is lighter. The inside is lined with two type of grey cotton linen, side walls are smooth with maker mark that looks like S?F? cannot make out some of the letters, just fatted out and it was not a good clear stamp when it was new, also marked size 59 or 58, the top has HBT pattern grey material. Overall cap did not see much use, the wool does shows some field wear but very little and the inside shows only light wear. If you have the insignia, you would have about a $2000 to $2500 cap. High Exc. + $1000.00. Would trade on other WW II German Head Gear, need combat helmets with nice decals.