Jessen's Relics Inc. P.O. Box 1180 Harrison, TN. 37341 U.S.A.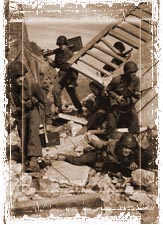 JESSEN'S RELICS INC. Incorporated in the 1970's and is owned by Anthony H. Jessen. I started collecting German WW II items in about the 5th grade and have never stopped, so I have over 55 plus years nonstop with these items. I started buying items by cutting grass during the summer months and when I was in high school started going to local gun shows were I started buying and selling to pay for my collection, started collecting German WW II Head Gear in the 60's and had about 350 different pieces of German WW II head gear by the late 70's. I can remember when you could buy a German Single Decal Luftwaffe Paratrooper helmet for $30 to $40 that was 99%, boy have things changed on that item. Turned this into a full time business in the 80's. I no longer collector, but still love the head gear. I am a Honorary Life Member of the Ohio Valley Military Society, badge number 490 and have not missed more than four shows in 40 plus years. This is the best show around, they are the club that puts on the best show in the world "The Show of Shows" with a great Staff and very good people. I am still a collector at heart and only want to deal in items that I would want to keep for myself.
Good luck with your hunt and All the Best.
Please read the Terms of Sale before purchasing anything.